Rich and indulgent, yet easily absorbed, our NEW body lotions provide deep and lasting hydration to protect and restore your skin. With their nourishing plant oils and natural fragrances, they leave your skin feeling deeply moisturised, looking radiant, and smelling divine.
YOUR BODY DESERVES THE BEST OF CARE
So much attention is focused on facial skin care that it can be easy to forget the rest of our body needs just as much attention.
Healthy skin is one of the body's main lines of defence against external irritants, moisture loss, and environmental aggressors like pollution, UV, wind and water.
However, there are a number of factors that can strip away our skin's protective layer, causing it to lose moisture – and become dry, rough and uncomfortable. These include:
• Weather. Exposure to the cold, sun and wind can all cause skin to lose moisture.
• Long, hot showers. These can strip skin of the natural oils that help protect it from moisture loss.
• Internal factors. Genetics, certain medical conditions and the natural ageing process can all cause dry skin.
• Indoor heating and air conditioning systems. These make the surrounding air drier, causing skin to follow suit.
• Harsh skin care ingredients. Sulphates, soaps and more can strip skin of its natural moisture and cause irritation.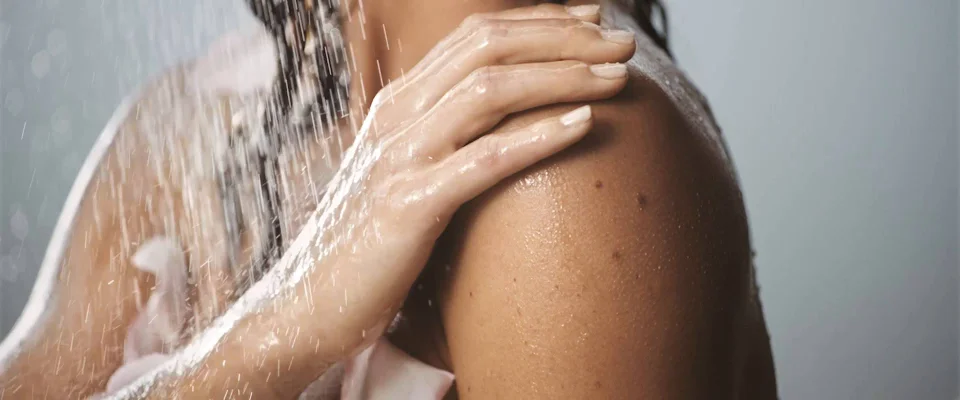 ONLY THE BEST FROM NATURE
We've always believed that nature is the answer when it comes to caring for your skin. And when it comes to body care, that mantra takes on even more importance.
Our skin is semi-permeable, meaning it has the ability to absorb certain substances that are placed on it. That includes many skin care ingredients – whether they're natural, harsh, synthetic, or anything in between.
That's why we created of our new body care range with one clear goal: to make our new body lotions and shower gels as natural as they could be.
"Our new range took over two years to formulate. Our goal was to deliver a natural formula with as many pure botanical ingredients as possible, while delivering a luxurious consumer experience. "
PAUL KENT
HEAD FORMULATOR, BODY, JURLIQUE
BROUGHT TO YOU BY THE PUREST PLACE ON EARTH
Each of our new body lotions features a blend of pure, concentrated botanicals grown and handpicked at our organic farm in the Adelaide Hills, South Australia.
BROUGHT TO YOU BY THE PUREST PLACE ON EARTH
Each of our new body lotions features a blend of pure, concentrated botanicals grown and handpicked at our organic farm in the Adelaide Hills, South Australia.

indulgent shower gels free from sulphates silicones parabens soaps

Choose from four uplifting fragrances:

Softening Rose
Calming Lavender
Refreshing Citrus
Restoring Lemon, Geranium
Which one will you pick?

Also available: NEW matching body lotions

indulgent shower gels in four bottles rose lavender citrus lemon geranium clary sage